Okay, here's a step by step on how I make my bulletproof coffee. It's great first thing in the morning. Plenty to sustain me till mid/late morning when I take my first protein shake.
No excuses now – here you go:
Step 1. I brew good coffee and pour it into a large plastic cup.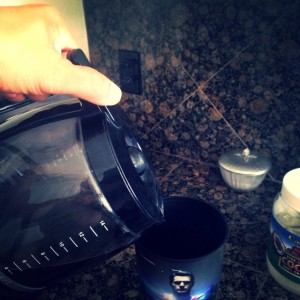 Step 2. I put 2 tablespoons of unsalted butter (I use kerrygold brand) in cup.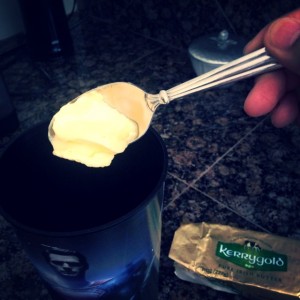 Step 3. Put 2 tablespoons of coconut oil (or specific MCT oil) in cup.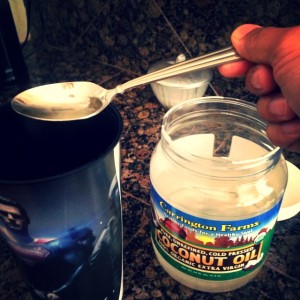 Step 4. Blend it… you'll get a nice froth on top.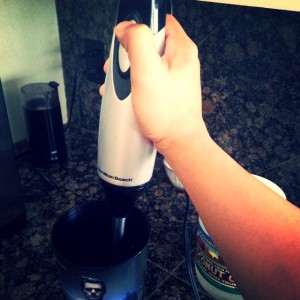 Step 5. Pour into your favorite mug, enjoy, and dominate your day!
(And yes, that is a sponge bob plate in the pic below… ha!)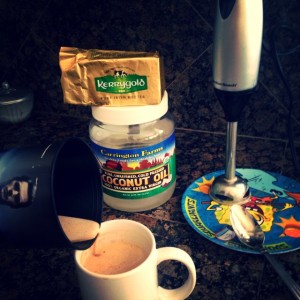 So that's how I make my "bulletproof" coffee. During the week, I typically don't take in any carbs until afternoon. I don't need it. I function well and energetically on fats and protein. I've "trained" my body not to need carbs to start the day.
Rethink how you power your mornings. Now go ahead and try some bulletproof coffee. One thing to note – if you're not used to higher fat intake, start slowly with 1 tbsp of the unsalted butter and coconut oil (or MCT). Test how it goes and move on from there.
[Originally posted August 2014]